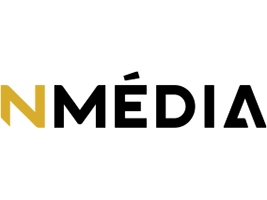 Spécialiste SEO/SEM senior
Nmédia
Quebec City,QC
Salary

To be discussed

Full time

Permanent , Telecommuting job

Day shift work

Published on

September 9th, 2022

1 position to fill as soon as possible
Benefits
Cafeteria
All of our employees enjoy an on-site canteen with some paid items and many free items. Among other things, fruit, coffee, milk, peanut butter and lots of condiments are free (the essentials to survival, basically).
Clothing monetary allowance
Instead of giving you Nmedia items that you may not use, we are offering you $100 a year to buy the ones you want in our store.There is something for the whole family and we welcome suggestions!
Coffee
Commitment to work-life balance
Employee assistance program
Employee referral bonus
We believe that the best person to recommend Nmedia is you. That's why we offer a $1,000 when an employee recommends a candidate who stays on the job for at least 6 months.
Flexible hours
The regular work week at Nmedia is 40 hours per week, but you can start or leave earlier if you want. We don't require a set schedule, as long as you are available for the team meetings on your schedule.If you're planning a trip at any time of the year, if your youngest has a fever, or if you just feel like telecommuting one morning, that's also possible upon request. We are very open!
Insurance
We pay 50% of the collective insurance plan for you and your family.We also offer interesting protections, such as $240 of reimbursement per year for specialist care such as physio, chiro or psychologist, 100% reimbursement of all generic drugs and travel insurance.
On-going training
There is a lot of autonomy and you can access train on subjects you want, for a maximum of 50 paid hours per year.For example, you can watch videos, try new technologies, do a proof of concept or attend conferences.
Registered retirement savings plan
Our group RRSP is very advantageous: we double your contribution! If you put in the maximum, i.e. $1,000 per year, we'll also give you $1,000.
Reimbursement of professional association dues or membership fees
If you are a member of a professional association or order useful to your job at Nmedia, or if you want to join one, we will reimburse your annual fees.
Reimbursement of training and development activities
If you want to take a course in order to develop a particular skill, we reimburse 100% of the tuition and related fees.We also reimburse 100% of the cost of the required course books.
Social activities organized by the company
As a company that values fun, it's only natural to have a hyperactive social club! We have no shortage of original activities: Oktoberfest, dart tournament, air yoga, St. Patrick's Day party, video game night, Cinco de Mayo and patio afternoons are just a few... last year alone!
Summer schedule
Throughout the summer, you can leave at noon on Fridays to do whatever you want: go to a terrace, have fun with your kids, do housework... whatever you want!And the summer schedule always starts with a BBQ at the boss' house (just because).
Telework
We know that telecommuting is quite fashionable these days. At home, it's the same! You can work from the balcony, from your home office and even from your garage if you want! As long as you're available for the team meetings on your schedule, you can work from wherever is most convenient for you.
Travel insurance
Travel insurance through our collective insurer
---
Description
Tu aimes analyser les besoins du marché et participer à l'élaboration de stratégies de commercialisation numérique des produits ou services pour différents clients?

Si en plus tu connais l'optimisation SEO et le marketing automation sur le bout des doigts, que la résolution de problèmes et le coaching des employés ne te font pas peur et que tu es toujours en mode solutions, notre poste de spécialiste SEO/SEM senior est pile dans tes cordes!

Passe au niveau supérieur et joins-toi à notre équipe! Tu pourras faire de la configuration de plateformes marketing, du mentorat, de la gestion de campagnes promotionnelles et partager tes connaissances avec différents intervenants.

Notre terrain de jeux est à ta disposition pour mettre ta riche expérience de l'avant avec des projets stimulants en tant que spécialiste SEO/SEM senior. On n'attend plus que toi!

Ce que tu fais
Participer à la conception et la réalisation d'outils promotionnels et publicitaires ainsi qu'à la production de contenus numériques
Optimiser le contenu de sites Web pour les moteurs de recherche (SEO)
Créer et gérer des campagnes publicitaires dans les moteurs de recherche (SEM)
Analyser et optimiser la performance des campagnes en utilisant Google Ads et Google Analytics
Développer et gérer des outils et des campagnes de marketing automation
Analyser et proposer des opportunités promotionnelles
Identifier les risques et les opportunités en rédigeant des analyses et recommandations afin d'optimiser les performances pour maximiser le retour sur investissement de la clientèle
Émettre des recommandations pour la conception d'une stratégie de commercialisation numérique en te basant sur les besoins d'affaires, le marché du client et les résultats visés
Participer à l'assurance qualité des travaux entre collègues
Ce que tu gagnes
La possibilité d'user de tes capacités stratégiques pour livrer des projets performants
Collaborer avec diverses experts de plusieurs domaines du numérique et participer à des projets variés stimulants
De la formation continue et du temps pour maintenir à jour tes connaissances numériques
La possibilité de mettre ton grain de sel dans des projets motivants
Travailler au sein d'une

entreprise certifiée Employeur Remarquable
Avoir un emploi stimulant en constante évolution
Et

bien d'autres avantages corpos
Read more
---
Work environment




---
Requested skills
Tes compétences
Détenir un baccalauréat en marketing ou en administration avec majeure en marketing ou en commerce électronique
Expérience en gestion de campagnes publicitaires numériques et détenir les certifications Google Analytics, Google Ads, Facebook Ads
Connaissance du marketing automation
Maîtrise des indicateurs stratégiques de performance, des méthodes de mesure, de captation et de suivis
Bonne maîtrise du français oral et écrit
Excellente maîtrise des principales stratégies SEO et capacité à les mettre en application
Excellente maîtrise des principales plateformes et régies publicitaires numériques
Connaissance globale en gestion de médias sociaux
Tes qualités
Aptitude pour l'analyse et l'optimisation des indicateurs de performance
Être à l'aise de t'exprimer devant les clients
Être autonome et structuré
Très bonne capacité à travailler en équipe
Excellente gestion des priorités
Aptitude à travailler sur plusieurs projets simultanément
---
Equal Opportunity Employer
This employer is an equal opportunity employer committed to diversity and inclusion. We are pleased to consider all qualified applicants for employment without regard to race, color, religion, sex, sexual orientation, gender identity, national origin, age, disability, protected veterans status, Aboriginal/Native American status or any other legally-protected factors. Disability-related accommodations are available on request for candidates taking part in all aspects of the selection process.
---
Requirements
Level of education
University
Diploma
Certificate
Completed
Work experience (years)
3-5 years
Written languages
Fr : Advanced
En : Intermediate
Spoken languages
Fr : Advanced
En : Intermediate
Other Nmédia's offers that may interest you