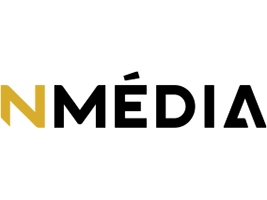 Benefits
Cafeteria
All of our employees enjoy an on-site canteen with some paid items and many free items. Among other things, fruit, coffee, milk, peanut butter and lots of condiments are free (the essentials to survival, basically).
Clothing monetary allowance
Instead of giving you Nmedia items that you may not use, we are offering you $100 a year to buy the ones you want in our store.There is something for the whole family and we welcome suggestions!
Coffee
Commitment to work-life balance
Employee assistance program
Employee referral bonus
We believe that the best person to recommend Nmedia is you. That's why we offer a $1,000 when an employee recommends a candidate who stays on the job for at least 6 months.
Flexible hours
The regular work week at Nmedia is 40 hours per week, but you can start or leave earlier if you want. We don't require a set schedule, as long as you are available for the team meetings on your schedule.If you're planning a trip at any time of the year, if your youngest has a fever, or if you just feel like telecommuting one morning, that's also possible upon request. We are very open!
Insurance
We pay 50% of the collective insurance plan for you and your family.We also offer interesting protections, such as $240 of reimbursement per year for specialist care such as physio, chiro or psychologist, 100% reimbursement of all generic drugs and travel insurance.
On-going training
There is a lot of autonomy and you can access train on subjects you want, for a maximum of 50 paid hours per year.For example, you can watch videos, try new technologies, do a proof of concept or attend conferences.
Registered retirement savings plan
Our group RRSP is very advantageous: we double your contribution! If you put in the maximum, i.e. $1,000 per year, we'll also give you $1,000.
Reimbursement of professional association dues or membership fees
If you are a member of a professional association or order useful to your job at Nmedia, or if you want to join one, we will reimburse your annual fees.
Reimbursement of training and development activities
If you want to take a course in order to develop a particular skill, we reimburse 100% of the tuition and related fees.We also reimburse 100% of the cost of the required course books.
Social activities organized by the company
As a company that values fun, it's only natural to have a hyperactive social club! We have no shortage of original activities: Oktoberfest, dart tournament, air yoga, St. Patrick's Day party, video game night, Cinco de Mayo and patio afternoons are just a few... last year alone!
Summer schedule
Throughout the summer, you can leave at noon on Fridays to do whatever you want: go to a terrace, have fun with your kids, do housework... whatever you want!And the summer schedule always starts with a BBQ at the boss' house (just because).
Telework
We know that telecommuting is quite fashionable these days. At home, it's the same! You can work from the balcony, from your home office and even from your garage if you want! As long as you're available for the team meetings on your schedule, you can work from wherever is most convenient for you.
Travel insurance
Travel insurance through our collective insurer
---
Description
Tu as deux personnalités : doué avec les gens comme avec la technologie, tu te démarques pour tes habiletés décisionnaires et ta vision d'affaires.
Ça te dirait d'être analyste?


Ce que tu fais
Analyser les besoins d'affaires des entreprises
Déterminer les actions à entreprendre pour atteindre les objectifs d'affaires des clients
Transmettre et vulgariser les développements requis à l'équipe TI
Documenter les actions entreprises
Rencontrer et conseiller les clients pour leurs développements d'affaires
Contribuer au contrôle de la qualité avec l'équipe de développement

Ce que tu gagnes
La possibilité de concrétiser tes idées
La liberté de décision
La confiance totale en tes capacités
La possibilité de réellement faire une différence pour nos clients
Et

bien d'autres avantages corpos
Read more
---
Work environment




---
Requested skills
Tes qualités
Excellente capacité à travailler en équipe
Autonomie et leadership
Capable de travailler sur plusieurs projets simultanément
Excellente gestion des priorités
Aptitude à travailler sous pression
Excellentes aptitudes communicationnelles
Passion des technologies Web, esprit d'initiative et rigoureux
Capacité à développer des idées, à les étoffer et à les défendre
Tes compétences
Baccalauréat ou DEC en informatique, informatique de gestion, génie informatique ou toute autre formation pertinente
Cinq (5) ans d'expérience dans un rôle similaire
Maîtrise du français oral et écrit
Excellente connaissance de l'anglais
Connaissance de CRM Microsoft Dynamics, un atout
Connaissance des méthodologies agiles
Intérêt et capacité à effectuer de l'assurance qualité logicielle, un atout
Connaissance des domaines de l'assurance et des finances, un atout
Grande capacité d'analyse
---
Equal Opportunity Employer
This employer is an equal opportunity employer committed to diversity and inclusion. We are pleased to consider all qualified applicants for employment without regard to race, color, religion, sex, sexual orientation, gender identity, national origin, age, disability, protected veterans status, Aboriginal/Native American status or any other legally-protected factors. Disability-related accommodations are available on request for candidates taking part in all aspects of the selection process.
---
Requirements
Level of education
University
Work experience (years)
3-5 years
Written languages
Fr : Advanced
En : Intermediate
Spoken languages
Fr : Advanced
En : Intermediate
Other Nmédia's offers that may interest you