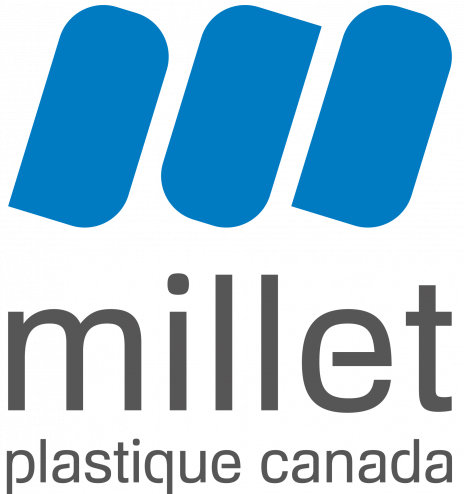 Benefits
Accidental death insurance
Air conditioning
Clothing monetary allowance
Security shoes or boots 
Company supplied uniform
Deferred profit sharing plan DPSP
Dental insurance
Employee referral bonus
Floating leave days
Free parking
Life insurance
Long-term disability insurance
Medical and paramedical expenses coverage
On-going training
Paid leave
Anniversaire de naissance payé
Paid sick leave
Pension plan
Reimbursement of professional association dues or membership fees
Activités sportives et sociales, abonnement gym
Salary insurance
Travel Assistance
Vision care insurance
---
Description
Millet Plastique est actuellement à la recherche de journaliers (es)
Vous cherchez une carrière stimulante, vous n'avez pas peur des défis et aimez toucher à diverses tâches avec une équipe conviviale, n'hésitez pas à nous contacter.

Pourquoi tu devrais faire équipe avec nous ?
Un bon salaire pour ton entrée en poste
Un horaire stable
Possibilité de faire des heures supplémentaires
Primes de quart, prime d'assiduité jusqu'à 200.00$ par mois / versée à tous les mois
Programme complet d'assurance collective (50/50)
REER collectif avec contribution de l'employeur
Congés maladie, mobile, congé anniversaire
Vêtements, chaussures et équipements de protection fournis par l'employeur
Un environnement de travail propre, tempéré et sécuritaire.
À quoi ressemblera ton quotidien chez nous :
Comprendre et assimiler les opérations de base de la machine de production.
Inspecter et emballer les produits.
Intervention de premier niveau lors d'incidents sur les lignes.
Réaliser le filmage des palettes et l'édition des étiquettes d'identification.
Informer le chef d'équipe de toute non-conformité.
Aider le chef d'équipe au besoin.

Responsable de la collecte de toutes les ordures dans la zone de production à la fin de son quart de travail et de les disposer correctement.

Effectuer les opérations de nettoyage et d'assainissement de la zone de production selon le programme de nettoyage et d'assainissement.
Responsable des tests de surveillance et d'inspection en cours de production.
Responsable de compléter les formulaires de qualité et de production.
Surveiller le bon fonctionnement des différents équipements des lignes de production.
Read more
---
Work environment




---
Requested skills
Bonne capacité d'apprentissage
Bonne dextérité manuelle 
Initiative, autonomie et esprit d'équipe
Respect rigoureux des consignes qui vous sont données
Capacité de soulever des charges de 50 lbs.
Rester debout tout au long du quart de travail.
Détenir les compétences d'opérer une machine de production.
Détenir les compétences pour compléter des formulaires d'inspection
Connaissance de base des matières plastiques et des normes de qualité SQF (un atout).

Travail 40 heures en semaine :
Poste de soir : 16h à 0h00 (Prime de soir )
Poste de nuit : 0h00 à 8h00 (Prime de nuit)
Le salaire horaire offert est à partir de 20.16 $ et plus
---
Equal Opportunity Employer
This employer is an equal opportunity employer committed to diversity and inclusion. We are pleased to consider all qualified applicants for employment without regard to race, color, religion, sex, sexual orientation, gender identity, national origin, age, disability, protected veterans status, Aboriginal/Native American status or any other legally-protected factors. Disability-related accommodations are available on request for candidates taking part in all aspects of the selection process.
---
Requirements
Work experience (years)
0-2 years
Written languages
Fr : Intermediate
Spoken languages
Fr : Intermediate
Other Millet Plastique Canada inc.'s offers that may interest you