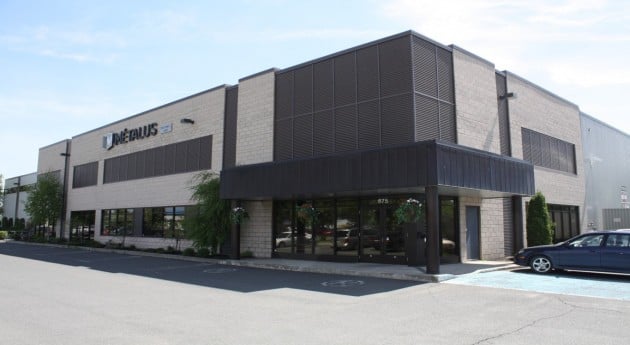 Benefits
Commitment to work-life balance
Nous nous soucions du bonheur de nos employés. Les employés de bureau bénéficient d'un horaire flexible afin de concilier leur vie professionnelle et leur vie personnelle. Pour les employés d'usine, nous privilégions des horaires fixes (non rotatif) pour une stabilité familiale.
Competitive salary
Employee assistance program
Employee referral bonus
Free parking
Gym
La santé est une priorité!Les employés bénéficient d'une salle d'entrainement sur les lieux du travail. De plus, les services d'une kinésiologue sont offerts aux employés pour une évaluation globale de la condition physique, la mise en place d'objectifs et des suivis. Nous désirons être une entreprise en santé!
Insurance
Assurance collective (vie, invalidité long terme et santé) payée à 50% par l'entreprise.
Life insurance
Long-term disability insurance
Medical and paramedical expenses coverage
Social activities organized by the company
Nous avons un comité social actif!
Telemedecine
---
Description
Journalier
Nous sommes à la recherche d'un ou d'une nouvelle collègue pour compléter l'équipe de production! Tu es une personne dynamique, méthodique, rigoureuse, autonome, débrouillarde et amusante à côtoyer? En plus, tu maîtrises l'art de mesurer avec différents outils, tu as des connaissances dans le métal et tu aimes travailler de façon minutieuse? C'est toi qu'on veut!
Une journée chez Métalus ressemblera à :
Être satisfait de bien mesurer à l'aide d'un ruban à mesurer ou d'un pied-vernier différentes pièces
Arriver à la bonne texture désirée de différentes pièces avec sableuse
Procéder à l'ébavurage de différentes pièces
Découper des pièces à l'aide d'une scie
Réussir à percer des pièces avec perceuse à colonne
Le plaisir de comprendre des plans
Toutes autres tâches connexes agréables
Si dans ton ADN tu as :
De l'expérience pertinente dans une usine similaire
Un contrôle du système de mesures impériales et métriques
De la polyvalence
Une bonne dextérité
De la capacité de travailler en équipe
Et que tu maîtrises la langue française
Notre engagement envers toi :
Te faire travailler dans un horaire régulier; horaire de jour-on fini tôt le vendredi!: 7h00 à 16h15 du lundi au jeudi et de 7h à 12h le vendredi. horaire de soir- tu seras en congé le vendredi, samedi et dimanche!: 16h15 à 2h45 du lundi au jeudi.
Taux horaire de 20.60$ à 23.21$
Prime de

0.90$ le soir
Prime d'ancienneté
REER collectif
Bénéficier de la possibilité de faire du temps supplémentaire
Vêtements de travail et souliers de sécurité payés après 1 an de service
L'avantage de détenir des assurances collectives payées à 50% par l'employeur
Programme d'aide aux employés et télémédecine disponible!
Exercer un métier dans une usine propre
De posséder un emploi permanent et stable (très peu de mises à pied)
L'opportunité de travailler dans un milieu d'apprentissage continu
Remboursement de 100$ dans un abonnement d'un gym
Avoir un comité social qui organise des activités diversifiées
Prime de référencement de 1000$ si tu nous réfères des amis
Bornes de recharge électrique
Métalus est une entreprise dynamique et en forte croissance, située à Drummondville et à Victoriaville. Nous accordons une très grande importance à l'amélioration continue et au bonheur de nos employés! Ce que nous voulons, ce sont des employés heureux, motivés, mobilisés et responsables pour offrir le meilleur produit qui soit à nos partenaires d'affaires. Salaire compétitif, assurances collectives et défis à la hauteur! Viens vivre l'expérience Métalus!
Ça t'intéresse? Postule au rh@metalus.qc.ca !
Read more
---
Work environment




---
Equal Opportunity Employer
This employer is an equal opportunity employer committed to diversity and inclusion. We are pleased to consider all qualified applicants for employment without regard to race, color, religion, sex, sexual orientation, gender identity, national origin, age, disability, protected veterans status, Aboriginal/Native American status or any other legally-protected factors. Disability-related accommodations are available on request for candidates taking part in all aspects of the selection process.
---
Requirements
Work experience (years)
undetermined
Written languages
Fr : Beginner
Spoken languages
Fr : Intermediate
Other Métalus inc.'s offers that may interest you