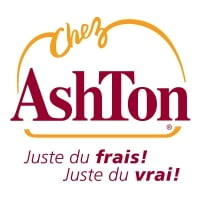 Benefits
Air conditioning
Agréable, surtout pendant l'horaire d'été !
Company discounts
Un rabais sera applicable dans votre succursale d'emploi afin que vous puissiez profiter vous aussi de notre délicieux menu !
Company supplied uniform
Employee assistance program
Avec l'assurance collective.
Flexible hours
Tout en demeurant repesctueux de l'équité, nous tenons compte de vos disponibilités et de vos demandes de congé.
Free parking
La majorité de nos restaurants disposent d'un vaste stationnement. Dans ce cas, celui-ci peut être utilisé gratuitement par notre personnel.
Insurance
Un régime d'assurance collective comprenant l'assurance-médicaments et dentaire, l'assurance-vie et l'assurance-salaire est disponible Chez Ashton. Pour qu'une personne ait droit à l'assurance collective, elle doit cumulé au moins 3 mois de service actif et continu dans l'entreprise et doit travailler un minimum de 30 heures par semaine de façon continue.
On-going training
Nous croyons au développement de notre personnel. Nous offrons un plan de formation continue dans le but de créer de la polyvalence et de l'entraide au sein de nos équipes.
Performance bonuses
Un boni annuel est versé aux équipiers et équipières, sur la base du respect des techniques et politiques communiquées à l'embauche.
Public transportation nearby
Une grande partie de nos restaurants se trouvent sur des artères principaux, lesquels diposent d'un service de transport en commun facile d'utilisation.
Registered retirement savings plan
En plus de vous offrir l'opportunité de faire de l'épargne-retraite, vous récupérez immédiatement le remboursement d'impôt applicable.
Social activities organized by the company
Years of service recognition
---
Description
Ta personnalité, tes talents ou tes ambitions font de toi quelqu'un d'inspirant? Viens collaborer!
Chez Ashton, tu pourras t'épanouir… comme une fleur! Besoin de temps pour étudier? Tu feras le nombre d'heures que tu veux. Tu réussis bien à l'école? Tu pourras t'inscrire à notre programme de bourses d'études! Le hockey, c'est toute ta vie? On t'offrira des horaires flexibles pour que tu ne manques pas tes pratiques!
Et le plus beau, dans tout ça? Même si tu as une vie bien remplie en dehors du travail, il te sera possible de monter les échelons chez nous.
Aidé(e) de tes coéquipiers et coéquipières, qui deviendront rapidement tes ami(e)s (on parle par expérience!), tu seras d'abord formé(e) à un poste selon tes préférences et tes forces. Puis, tu pourras apprendre tous les autres! À bas la routine, place à l'ambition et au rayonnement de ta personnalité!
Fonctions :
Cuisiner les commandes des clients en fonction du menu
Voir à la préparation/assemblage des mets en s'assurant de respecter les techniques de travail
Nettoyer les surfaces de travail et le restaurant pour s'assurer de respecter les bonnes techniques d'hygiènes et salubrité établies par les normes.
Ce que nous offrons à quelqu'un d'inspirant comme toi :
Horaires flexibles et adaptés à TES besoins;
Augmentation de salaire et boni TOUS les ans;
Accès à un programme de bourses d'études si tu es étudiant(e) post secondaire et concours de persévérance scolaire si tu es au secondaire;
Rabais de 45% dans nos restaurants, sur tout le menu (Miam!);
Programme de reconnaissance (Surprises spontanées qui ensoleilleront ta journée!);
Expérience valorisée. On adaptera ton salaire en conséquence!;
Ton anniversaire célébré par l'équipe, entre autres avec un repas gratuit;
Formation rémunérée;
Uniformes de travail gratuits (Incluant notre désormais célèbre et exclusive casquette « Poutine Ashton »);
Accès à un REER collectif;
Accès à une assurance collective incluant un plan dentaire après 3 mois en emploi (si tu collabore avec nous à temps plein);
Plusieurs plans corporatifs dans une foule de secteurs différents. Il y en a pour tous les goûts!;
Ambiance unique et ultra sympathique garantie!
Read more
---
Work environment



---
Requested skills
Aimer le travail d'équipe
Rapidité d'exécution
Soucieux d'offrir des produits de haute qualité
Si tu te démarques par ces qualités, c'est que tu es le ou la candidat(e) que nous recherchons!
---
Requirements
Work experience (years)
undetermined
Written languages
Fr : Intermediate
Spoken languages
Fr : Intermediate
Internal reference No.
Other Les Restaurants Chez Ashton's offers that may interest you