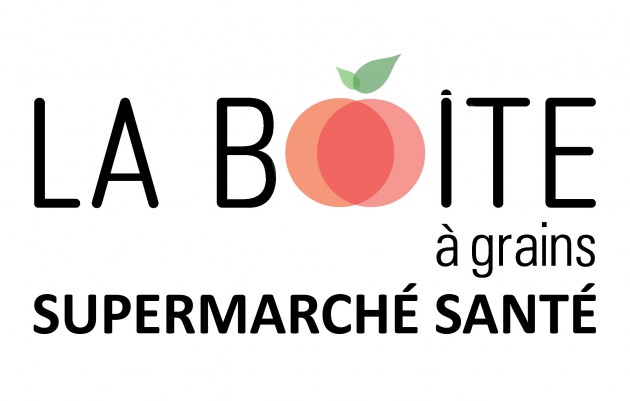 Benefits
Air conditioning
Cafeteria
Un service de plat prêt-à-manger est disponible en magasin.
Coffee
Commitment to work-life balance
Company discounts
Employee referral bonus
Flexible hours
Free parking
Le stationnement du commerce est mis à votre disposition.
Insurance
Mentoring
On-going training
Paid sick leave
Public transportation nearby
Arrêt: DU PLATEAU / SAINT-RAYMOND (25 BOULEVARD DU plATEAU)Arrêt: SAINT-JOSEPH/RENÉ-MARENGÈRE (581 BOULEVARD ST-JOSEPH)Arrêt: STATION PROMENADES #2 (325 BOULEVARD GRÉBER)
Recognition program
Vacation
---
Description
La Boite à Grains est à la recherche d'un(e) adjoint administratif - épicerie, produits frais & surgelé afin d'évoluer avec notre équipe et de nourrir notre mission de l'alimentation saine et accessible à la population. Tu aimes relever des défis avec passion tout en impliquant dans une entreprise québécoise en pleine croissance? On a besoin de toi!

Travailler à La Boite à Grains c'est développer l'économie locale tout en réduisant l'empreinte environnementale, en promouvant la santé naturellement et aussi:

Un horaire flexible
Un rabais employé de 25%
Conciliation travail et vie personnelle

L'adjoint administratif est responsable de soutenir la Directrice principale de catégorie – Épicerie, produits frais & surgelés dans ses fonctions.

Vous serez responsable de:

Responsable principal du vrac, incluant les changements de prix, soutien aux listings, suivis fournisseurs, soumissions et autres tâches connexes.
Réunir, extraire, analyser et présenter divers rapports, tels que : ventes, marques, catégories, familles, fournisseurs, ventes scan.
Effectuer les demandes d'autorisation de promotions, monter les bons de commandes circulaire /instore du département de l'épicerie, produits frais & surgelés et effectuer les suivis nécessaires à l'interne ou avec les fournisseurs.
Responsable de la création de nouveaux produits et autres changements au système de vente.
Effectuer les changements de prix du département dans le système de vente
Gérer l'agenda pour accomplir toutes les tâches.
Effectuer des suivis auprès des magasins, fournisseurs, représentants, courtiers, manufacturiers.
Qualifications minimales :

Détenir une formation en administration ou en secrétariat
1 à 3 ans d'expérience en soutien à la direction dans le domaine de la vente au détail, marchandisage
Maîtrise de la suite Office (Excel, Word, Outlook, PowerPoint) ;
Maîtrise du système de point de vente SMS, ou avoir une aptitude à travailler avec des bases de données;
Maîtrise de la langue française à l'écrit et excellentes compétences de communication autant en français qu'en anglais;
Excellentes compétences en gestion du temps et bon sens de l'organisation ;
Capacité à gérer plusieurs tâches simultanément.
Read more
---
Work environment




---
Requested skills
Pour avoir du plaisir dans le rôle d'adjoint administratif, vous devez avoir :


Vitalité (aptitude à produire des résultats nombreux et importants)
Résistance au stress
Esprit d'équipe
Autonomie
Polyvalence
Sens de l'initiative
Sens de l'organisation
À La Boite à Grains, nous sommes tissés serrés! Nous offrons du support au quotidien pour maintenir vos connaissances à jour et vous pourrez explorer différentes perspectives de carrière au sein de notre équipe. Nous sommes là pour vous.
Nous remercions tous les candidats de leur intérêt. Nous ne communiquerons toutefois qu'avec les personnes sélectionnées pour une entrevue.
---
Equal Opportunity Employer
This employer is an equal opportunity employer committed to diversity and inclusion. We are pleased to consider all qualified applicants for employment without regard to race, color, religion, sex, sexual orientation, gender identity, national origin, age, disability, protected veterans status, Aboriginal/Native American status or any other legally-protected factors. Disability-related accommodations are available on request for candidates taking part in all aspects of the selection process.
---
Requirements
Level of education
Professional
Work experience (years)
3-5 years
Written languages
Fr : Advanced
En : Intermediate
Spoken languages
Fr : Advanced
En : Intermediate
Other La Boite à Grains's offers that may interest you