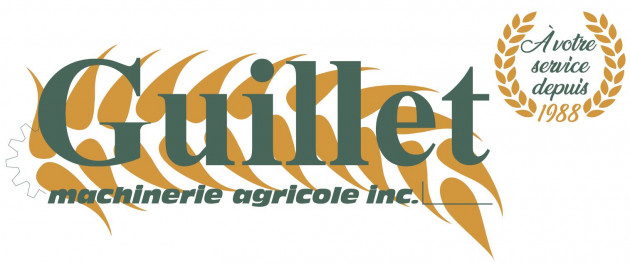 Benefits
Company discounts
Company supplied uniform
Competitive salary
Réévaluation salariale après 90 jours de travail; Augmentation de salaire annuel à tous les 1ers juillets.
Flexible hours
Absence parental ou maladie.
Free parking
Paid leave
Paid sick leave
Schedule
Horaire de travail en haute saison : Lundi-jeudi 8h-17h / Vendredi : 8h-16h; Horaire de travail en basse saison : Lundi-vendredi 8h-16h. 
Social activities organized by the company
---
Description
* Prime à l'embauche de 5,000$*
* Salaire concurrentiel et à définir selon expérience
* Assurance collective complète avec dentaire, voyage et télémédecine
* 5 jours congé maladie
* 32 heures semaines
* Lundi-jeudi de 8hr à 16h30
* 3 semaines de vacances après 1 an
* RÉER avec la FTQ
Guillet machinerie agricole Inc. est présentement à la recherche d'un (e) technicien-comptable à son concessionnaire de Pike River.

Qui sommes-nous ? :
Depuis 1988, GMA est une entreprise de souche familiale qui œuvre dans le domaine des équipements agricoles plus précisément des équipements d'alimentation et de fourrage pour les fermes laitières et bovines. Nous sommes le plus grand concessionnaire dans ce type d'équipements au Québec et desservons aussi les provinces de l'Ontario et des Maritimes.

Pourquoi travailler chez Guillet machinerie agricole ? :
Tu cherches une carrière à long terme et tu veux faire partie de nos projets d'avenir tout en contribuant de façon positive à l'essor de GMA? Alors, vient te joindre à notre équipe chevronnée!
Tu évolueras au sein d'une équipe jeune et dynamique et tu pourras t'épanouir dans notre belle équipe qui prône le respect de chacun et qui reconnaîtra l'importance de ta contribution. Tu auras l'opportunité de travailler dans un environnement de travail agréable, motivant et axé sur le travail d'équipe. Bref, tu seras activement impliqué dans la croissance de l'entreprise.
En te joignant à GMA, tu choisis
:
Une rémunération compétitive;
Une réévaluation salariale à 90 jours;
Une augmentation salarial annuel à tous les 1er juillets;
Un poste permanent à l'année, de jour du lundi au vendredi;
Un assurance collective complète après 3 mois de travail qui comprenant: les médicaments, médical, vie, salaire, dentaire, voyage et télé-médecine;
3 semaines de vacances après la première année et 4 semaines après 5 ans;
Tous les chemins mènent à Paris alors tous les chemins mène chez Guillet
Machinerie Agricole. La route qui vous mènera chez nous sera des plus
agréable sans trafic et sans embouteillage!

En tant que commis-comptable tu auras comme tâches et responsabilités :
Répondre au téléphone;
Rentrer les factures des fournisseurs;
Effectuer les paiements des comptes fournisseurs;
Faire les appels pour les comptes clients en souffrance;
Effectuer les conciliations bancaire;
Tenir à jour le budget;
Gérer la petite caisse;
Effectuer la fermeture des fins de mois;
Garder un registre des ventes machines et en effectuer la comptabilité;
Gestion des paies;
Effectuer la tenue de livre;
Gestion de l'assurance collective;
Gestion du réer de la FTQ;
Effectuer la comptabilité générale de la compagnie de A à Z;
Enregistrer les garanties des machines vendu;
Toutes autres tâches relié à l'emploi.
Ce poste t'intéresse? Dépêche-toi de nous faire parvenir ta candidature, nous avons hâte de te rencontrer!
Read more
---
Work environment




---
Requested skills
DEP commis-comptable ou expérience équivalente
Expérience dans un département de comptrabiité ou toute autre combinaison d'expérience jugée pertinente à l'emploi;
Connaissance et/ou expérience du milieu agricole (un atout);
Posséder 2 années d'expérience minimum comme commis-comptable;
Maitrise du français parlé et écrit;
Bonne connaissance de l'anglais parlé et écrit;
Bonne connaissance de la comptabilité;
Bonne connaissance des outils informatiques, de la suite Office et internet;
Être structuré, minutieux et axé sur la satisfaction de la clientèle;
Bonne connaissance de la comptabilité général.
---
Commissions
* Prime à l'embauche de 5,000$*
---
Equal Opportunity Employer
This employer is an equal opportunity employer committed to diversity and inclusion. We are pleased to consider all qualified applicants for employment without regard to race, color, religion, sex, sexual orientation, gender identity, national origin, age, disability, protected veterans status, Aboriginal/Native American status or any other legally-protected factors. Disability-related accommodations are available on request for candidates taking part in all aspects of the selection process.
---
Requirements
Level of education
Professional
Work experience (years)
3-5 years
Written languages
Fr : Intermediate
En : Beginner


Other:
anglais
Spoken languages
Fr : Advanced
En : Beginner


Other:
anglais
Other Guillet Machinerie Agricole inc.'s offers that may interest you