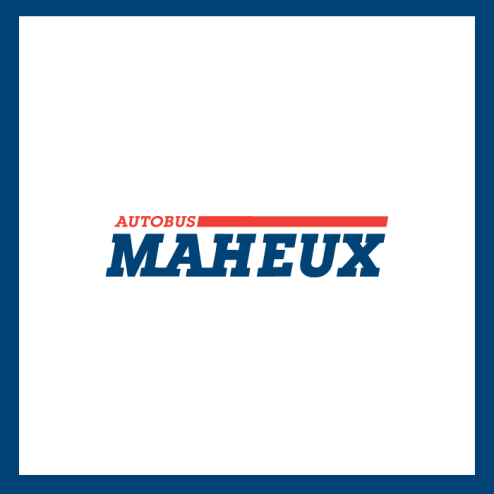 Conducteur d'autocar
Groupe Maheux
Chibougamau,QC
Salary

22.84 $ per hour

0.00 to 45.00 h - Full time

Casual job

Day shift work

Published on

November 19th, 2022

1 position to fill as soon as possible
Description
CONDUCTEUR D'AUTOCARPOSTE OCCASIONNEL – SECTEUR CHIBOUGAMAU
LES AUTOBUS MAHEUX LTÉE
Les Autobus Maheux ltée, une entreprise de transport de personnes solidement implantée en Abitibi-Témiscamingue, est à la recherche de conducteur d'autocar pour l'assignation Chibougamau/Amos pour sur le service régulier de transport interurbain.
Relevant du directeur régional de la division autocar, le titulaire est responsable d'amener à bon port, dans la plus grande courtoisie et en toute sécurité les passagers à bord de leur véhicule tout en respectant les règles de la sécurité routière.
Conditions de travail :
Emploi occasionnel;
Horaire de travail sur rotation, moyenne de 45 heures par semaine;
Salaire établi selon la convention collective.
Pour de plus amples informations concernant notre entreprise, veuillez consulter notre site internet : www.autobusmaheux.qc.ca
Nous vous remercions de l'intérêt porté à notre entreprise. Notez que seuls les candidats retenus pour une entrevue seront contactés.
La forme masculine est utilisée uniquement dans le but d'alléger le texte et désigne aussi bien les femmes que les hommes.
Read more
---
Work environment




---
Requested skills
Le candidat recherché doit répondre aux exigences suivantes :
Détenir un permis de conduire de classe 2 avec la mention F;
Posséder un bon dossier de conduite et une bonne connaissance du réseau routier du Québec;
Détenir un minimum de 2 ans d'expérience en conduite de véhicules lourds;
Être disponible la semaine, la fin de semaine ainsi que plusieurs jours consécutifs;
Avoir une personnalité compatible avec une clientèle diversifiée;
Être courtois, avoir une tenue soignée et être professionnel;
Respecter les itinéraires et les délais qui leur sont assignés;
Répondre aux exigences de l'entreprise pour la conduite d'un autocar.
---
Equal Opportunity Employer
This employer is an equal opportunity employer committed to diversity and inclusion. We are pleased to consider all qualified applicants for employment without regard to race, color, religion, sex, sexual orientation, gender identity, national origin, age, disability, protected veterans status, Aboriginal/Native American status or any other legally-protected factors. Disability-related accommodations are available on request for candidates taking part in all aspects of the selection process.
---
Requirements
Level of education
undetermined
Work experience (years)
undetermined
Written languages
Fr : Intermediate
En : Beginner
Spoken languages
Fr : Intermediate
En : Beginner
Internal reference No.
Other Groupe Maheux's offers that may interest you