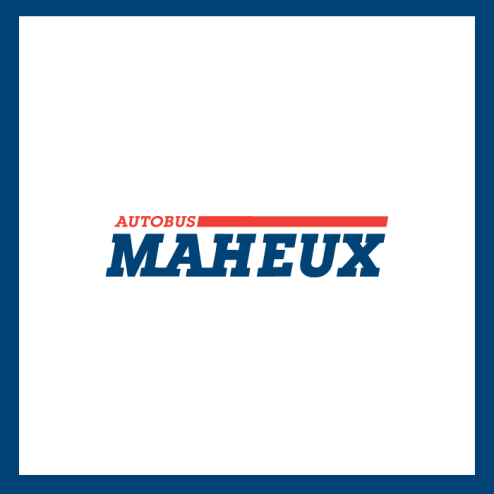 Conducteur d'autobus
Groupe Maheux
855, Boul Barrette, Val-d'Or,QC
Salary

18.03 to 20.03 $ per hour according to experience

0.00 to 25.00 h - Part time

Permanent job

Day shift work

Published on

January 3rd, 2023

1 position to fill as soon as possible
Description
CONDUCTEURS D'AUTOBUS SCOLAIRE POSTES RÉGULIER – SECTEUR DUBUISSON
LES AUTOBUS MAHEUX LTÉE – DIVISION VAL-D'OR/MALARTIC
Les Autobus Maheux ltée, une entreprise de transport de personnes solidement implantée en Abitibi-Témiscamingue, est à la recherche d'un conducteur d'autobus scolaire pour sa division de Val-d'Or/Malartic, plus précisément dans le secteur de Dubuisson.


Relevant du directeur des opérations, les titulaires sont responsables de transporter de façon sécuritaire les élèves pour l'aller et le retour à l'école. Ils font également au besoin des voyages nolisés pour une clientèle diversifiée.
Conditions de travail :
Emploi permanent à temps partiel ;
Horaire de travail de 0 à 25 hrs, selon l'assignation;
Salaire établi selon la convention collective.
Milieu de travail offrant une bonne qualité de vie au travail.
Nous offrons la possibilité d'accompagner les candidats sérieux pour l'obtention de leur permis de classe 2.
Nous vous remercions de l'intérêt porté envers notre entreprise et notez que seuls les candidats retenus pour une entrevue seront contactés.
La forme masculine est utilisée uniquement dans le but d'alléger le texte et désigne aussi bien les femmes que les hommes.
Read more
---
Work environment




---
Requested skills
Les candidats recherchés doivent répondre aux exigences suivantes :

Détenir un bon dossier de conduite et un permis de conduire de classe 2 ou être disposés à l'obtenir prochainement ;
Être titulaires du certificat de compétence (métier unique) ou être disposés à l'obtenir ;
Avoir une personnalité compatible et aimer travailler avec une clientèle diversifiée, particulièrement les enfants (niveau primaire et secondaire) ;
Être courtois, professionnels et avoir une tenue soignée ;
Faire preuve d'autonomie et d'un sens aigu des responsabilités ;
Assurer une conduite sécuritaire d'autobus ;
Rencontrer les exigences de l'entreprise quant aux aptitudes essentielles à la conduite d'un véhicule lourd ;
Être disponibles pour travailler sur des horaires variés.
---
Equal Opportunity Employer
This employer is an equal opportunity employer committed to diversity and inclusion. We are pleased to consider all qualified applicants for employment without regard to race, color, religion, sex, sexual orientation, gender identity, national origin, age, disability, protected veterans status, Aboriginal/Native American status or any other legally-protected factors. Disability-related accommodations are available on request for candidates taking part in all aspects of the selection process.
---
Requirements
Level of education
undetermined
Work experience (years)
undetermined
Written languages
Fr : Beginner
Spoken languages
Fr : Beginner
Internal reference No.
Other Groupe Maheux's offers that may interest you