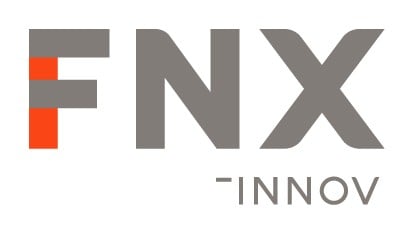 Benefits
Commitment to work-life balance
Competitive salary
Deferred profit sharing plan DPSP
Employee assistance program
Employee referral bonus
Flexible hours
Floating leave days
Insurance
Recognition program
Reimbursement of professional association dues or membership fees
Reimbursement of training and development activities
Telework
Vacation
---
Description
Chez FNX-INNOV, nous veillons jour après jour à redéfinir l'ingénierie sans aucune barrière. Nous sommes une entreprise de propriété québécoise qui innove grâce à ses services intégrés de la conception à la réalisation. Fort de nos 1000 professionnels et experts, nous excellons dans les secteurs de pointe tels que l'environnement, l'énergie, les infrastructures, le traitement des eaux, le bâtiment, l'efficacité énergétique, le génie industriel et minier, les télécommunications, les sciences de la terre, l'ingénierie des matériaux, la gestion de projets et la construction.
Présents dans plusieurs régions du Québec et du Canada, notre firme s'appuie sur des valeurs d'innovation, de respect, de collaboration, et d'intégrité pour s'entourer des meilleurs talents dans la poursuite de sa mission.
Joignez-vous dès maintenant à l'une de nos équipes multidisciplinaires, et ensemble, créons l'avenir!
Lieu de travail : Montréal
Au sein de l'équipe Caractérisation et réhabilitation environnementale, à titre d'Auxiliaire technique :
Vos responsabilités
Consulter les plans et devis en gestion des déblais;
Effectuer le suivi des travaux d'excavation et de gestion des sols contaminés;
Vérifier la conformité de ces travaux avec le devis;
Effectuer le suivi des bordereaux et des manifestes;
Tenir un registre des transports;
Compléter les rapports journaliers.
Read more
---
Work environment




---
Requested skills
Votre profil
Diplôme d'étude secondaire (DES) ou autre diplôme pertinent;
Détenir une carte ASP;
Bonne aptitude pour la communication;
Posséder un permis de conduire valide et avoir accès à une voiture.
Vos avantages
Salaire concurrentiel;
Contribution à un régime d'épargne-retraite;
Programme d'assurance collective;
Budget pour l'achat de vêtement de travail à l'effigie de FNX-INNOV;
Budget pour l'achat de bottes de travail;
Banque d'heure illimité;
Formations continues;
Opportunités de développement de carrière;
Cadre de travail et projets stimulants.
La forme masculine est utilisée afin d'alléger le texte.
---
Equal Opportunity Employer
This employer is an equal opportunity employer committed to diversity and inclusion. We are pleased to consider all qualified applicants for employment without regard to race, color, religion, sex, sexual orientation, gender identity, national origin, age, disability, protected veterans status, Aboriginal/Native American status or any other legally-protected factors. Disability-related accommodations are available on request for candidates taking part in all aspects of the selection process.
---
Requirements
Level of education
Professional
Work experience (years)
undetermined