Ébéniste
This recruiter is online.
This is your chance to shine!
Apply Now

Salary

18.00 to 22.00 $ per hour according to experience

40 h - Full time
Permanent

job

Day

shift work

Published on

March 20th, 2021
Position to fill on April 19th, 2021
Insurance
Visual Aids to support production
Insurance
Visual Aids to support production
Vacation
vacances et congés fériés tel que ceux de l'industrie de la construction
Vacation
vacances et congés fériés tel que ceux de l'industrie de la construction
L'ébéniste travaille sous la supervision du contremaître de l'atelier et devra être en mesure d'accomplir différentes tâches reliées à la fabrication de mobilier, entre autres, le débitage, le placage, le machinage et l'assemblage.


Nous sommes présentement à la recherche d'un ébéniste d'expérience qui souhaite se joindre à une équipe dynamique. Le candidat doit être à l'aise avec les plaqueuses de chant ainsi que tout l'équipement d'atelier. Nous recherchons une personne ponctuelle, débrouillarde et soucieuse du travail bien fait. Si vous aimez la diversité et créer des meubles uniques, nous vous invitons à postuler et nous envoyer votre C.V.
Description du poste
Assembler les meubles selon les plans de fabrication.
Machiner les pièces au besoin à l'aide de machines-outils.
 Comparer les items tout au long du montage avec les plans afin de valider l'exactitude des dimensions.

Annoter les meubles et pièces selon le numéro du projet.

Identifier les pièces en prévision de la finition.

Réaliser l'assemblage final des meubles après la finition au besoin.

Lecture et interprétation de plans (essentiel)

Read more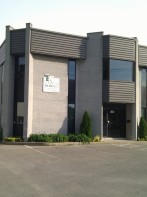 Projet Salle de Spectacle Maison Culture Jeanine S
Expérience dans le domaine institutionnel
Savoir lire les plans
Être en mesure de travailler avec les différentes machines d'un atelier d'ébénisterie
Autonome
Minutieux
Polyvalent
Equal Opportunity Employer
This employer is an equal opportunity employer committed to diversity and inclusion. We are pleased to consider all qualified applicants for employment without regard to race, color, religion, sex, sexual orientation, gender identity, national origin, age, disability, protected veterans status, Aboriginal/Native American status or any other legally-protected factors. Disability-related accommodations are available on request for candidates taking part in all aspects of the selection process.
Level of education
High school
Work experience (years)
3-5 years
Written languages
Fr : Advanced
Spoken languages
Fr : Advanced
Other Les Constructions Berka Inc.'s offers that may interest you