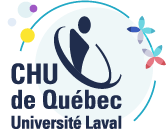 Benefits
Cafeteria
Company discounts
Insurance
LifeWorks program
Pension plan
Recognition program
---
Description
Regroupant le CHUL L'Hôtel-Dieu de Québec l'Hôpital de l'Enfant-Jésus l'Hôpital du Saint-Sacrement et l'Hôpital Saint-François d'Assise le CHU de Québec-Université Laval est le plus important centre hospitalier universitaire du Québec et l'un des plus grands au Canada. Dispensant des soins généraux et spécialisés mais surtout surspécialisés le CHU de Québec-Université Laval dessert la population de tout l'est du Québec soit un bassin de près de deux millions de personnes. Étroitement lié à l'Université Laval et orienté vers l'avenir il détient également une mission d'enseignement de recherche dans de nombreux domaines d'excellence et d'évaluation des technologies et des modes d'intervention en santé. Le CHU de Québec-Université Laval compte plus de 12 500 employés 1 500 médecins dentistes et pharmaciens 338 chercheurs réguliers et associés 169 chercheurs affiliés de même que 927 étudiants aux cycles supérieurs et 425 bénévoles.



Le service des opérations des bâtiments offre plusieurs possibilités pour la conciliation travail-famille-vie personnelle. En fonction des besoins du service :


- Réduction du temps de travail à 4 jours par semaine (35h).
- Banques de temps.

De plus, le CHU de Québec offre la possibilité de travailler au sein d'une grande équipe multidisciplinaire avec plusieurs défis et des possibilités d'évolution !

Nous avons plusieurs postes disponibles.

Résumé des tâches:

• assembler, réparer, mettre en place et entretenir les canalisations d'air, de gaz, d'eau, de vapeur, d'égout et de plomberie sanitaire

Salaire horaire de 26.57$ + prime de 10%.



Avantages CHU :

En plus d'avoir un environnement stimulant et une bonne ambiance au travail, de nombreux avantages s'offrent à vous au CHU de Québec-Université Laval:
Formations continues disponibles dès votre début d'emploi et accessible tout au long de votre carrière;
Programme de développement des leaders émergents;
Diversité des clientèles et des départements pour une longue et passionnante carrière;
Ancienneté qui se cumule dans les 5 hôpitaux du CHU de Québec-Université Laval;
Avantages sociaux complets;
4 semaines de vacances après une année de service;
13 journées fériées;
9,6 jours de congé maladie;
Contribution à un régime public de retraite à prestations déterminées (RREGOP);
Accès à un régime d'assurance collective adapté à vos besoins;
Accès aux assurances complémentaires, ainsi qu'à des services financiers gratuit;
Congé pour études universitaires en sciences infirmières
Remboursement partiel des frais de scolarité;
Réseau d'accueil des collègues disponibles afin de faciliter l'intégration socioprofessionnelle;
Plateforme Solutions mieux-être;
Programme d'aide aux employés (PAE);
Programme privilèges CHU : rabais (commerces, restaurants, spa, hôtels, centres de conditionnement physique, divertissements, transport en commun);
Programmes privilèges CHU : activités de mise en forme (yoga, pilates, zumba, cardio musculation), Défi entreprise; Pentathlon des neige, Parcours de marches près de nos hôpitaux;
Possibilité d'acheter des paniers de légumes biologiques l'été;
Aires de stationnements sécurisés pour les vélos pour les employés qui voyagent à vélo;
5 hôpitaux du CHU de Québec-UL desservis par les systèmes d'autobus de la RTC et le ST Lévis;
Aide au cheminement de carrière et outil Webfolio à votre disposition afin de bâtir votre projet professionnel en ligne. Outil conçu pour vous accompagner tout au long de votre carrière professionnelle au CHU de Québec-Université Laval.
Le CHU de Québec-Université Laval applique un programme d'accès à l'égalité et invite les femmes, les membres des minorités visibles et ethniques, les autochtones et les personnes handicapées à présenter leur candidature. Des mesures d'adaptation pourront être offertes, sur demande, selon la situation.
Nous remercions toutes les personnes qui poseront leur candidature, mais nous communiquerons uniquement avec celles retenues pour une entrevue
Read more
---
Work environment




---
Requested skills
Exigences :
• Détenir un diplôme d'études secondaires.
• Détenir un certificat de qualification compagnon tuyauteur ou tuyauteuse (plomberie).
• Connaître les exigences d'inspection et les règlements locaux relatifs à l'installation de plomberie.
• Être en mesure de fournir une estimation des matériaux propres à une installation et à une réparation.



Les diplômes exigés pour l'emploi, qui auraient été obtenus hors Québec, doivent être obligatoirement accompagnés d'une évaluation comparative des études effectuées hors Québec (ÉCEEHQ) émise par le ministère de l'Immigration et des Communautés culturelles du Québec.
---
Equal Opportunity Employer
This employer is an equal opportunity employer committed to diversity and inclusion. We are pleased to consider all qualified applicants for employment without regard to race, color, religion, sex, sexual orientation, gender identity, national origin, age, disability, protected veterans status, Aboriginal/Native American status or any other legally-protected factors. Disability-related accommodations are available on request for candidates taking part in all aspects of the selection process.
---
Requirements
Level of education
Professional
Work experience (years)
3-5 years
Written languages
Fr : Intermediate
Spoken languages
Fr : Intermediate
Other CHU de Québec-Université Laval - CHUQ's offers that may interest you