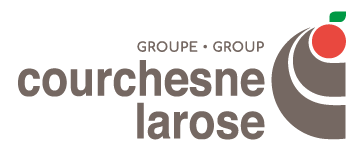 Benefits
Dental insurance
Employee assistance program
Employee referral bonus
Floating leave days
Free parking
Insurance
- Assurances collectives- Journées maladie rémunérées
Long-term disability insurance
Medical and paramedical expenses coverage
Paid sick leave
Registered retirement savings plan
Short-term disability insurance
---
Description
Are you passionate about mechanics and would like to:

Have the opportunity to grow with an experienced mechanic?
Work in a pleasant work environment?
Participate in various mechanical projects?
We have a position that might interest you...

Founded in 1918, Courchesne Larose is a family-owned company and a major player in the Canadian fruit and vegetable industry that has been growing for over 100 years. As a wholesaler, importer and exporter of fruits and vegetables, our mission is to offer our customers fresh, diversified and quality products year round, to provide our suppliers with the largest showcase and the best distribution network and to ensure the well-being of our employees. Courchesne Larose distributes to customers across Canada and on the East Coast of the United States.

We are currently looking for a Mechanic to join our Central Market team.

Please note that the person in this position must be available to respond to service calls outside of work hours 1 week out of 3 with possible travel within the workplace as needed. Also, the person could be called to work occasionally on weekends as needed and depending on the type of task to be accomplished (less than 10 times per year).

Schedule: 40h Monday-Friday 6am-2:30pm OR 7am-3:30pm

Why join us?

Complete group insurance program
Pension plan with employer contribution of up to 5%.
Sick days and floating vacations upon hiring
Free parking
A family business with over 100 years of experience!
Fast growing agri-food company certified eco-responsible - level 2 Performance
Possibility of purchasing fruits and vegetables in large quantities at advantageous prices

Reporting to the Maintenance Foreman, the Mechanic participates in the maintenance of electric pallet trucks, forklifts, and the building to ensure continuity of operations and a compliant work environment. More specifically, the Mechanic has the following responsibilities:

Equipment Mechanics

Perform basic mechanical maintenance on electric pallet trucks and forklifts.
Inspect and diagnose equipment and make necessary repairs.
Test equipment after repair to ensure proper operation and user safety.

Building Mechanics

Make daily inspection rounds of the premises, identify priorities and carry out repairs and general maintenance of the building, including loading and unloading docks, automatic doors and refrigerators, submersible pumps and sanitary installations.
Performs various welding tasks.
Perform preventive maintenance according to maintenance schedules.
Apply the audit schedule in relation to sanitation standards and document the work that has been done.
Notify the Quality Manager in case of breakage, non-conformity of equipment, building or other anomalies detected that do not comply with health and safety rules. Take the necessary corrective actions.
Participate in various projects.
Read more
---
Work environment




---
Requested skills
Your profile and talents

Education and experience :

DEP in industrial mechanics or in a related field;
Experience in a similar position (asset);
Interest in the repair of electric pallet trucks and forklifts (important asset).

Skills and qualities sought:

Good knowledge of French and English (spoken, read and written);
Welding skills (MIG, Stainless, etc.);
Analytical and problem solving skills;
Organizational skills and ability to manage priorities;
Teamwork and collaboration;
Ability to work in a cold and humid environment (0-8 degrees).
---
Requirements
Level of education
Professional
Work experience (years)
0-2 years
Written languages
Fr : Advanced
En : Intermediate
Spoken languages
Fr : Advanced
En : Intermediate